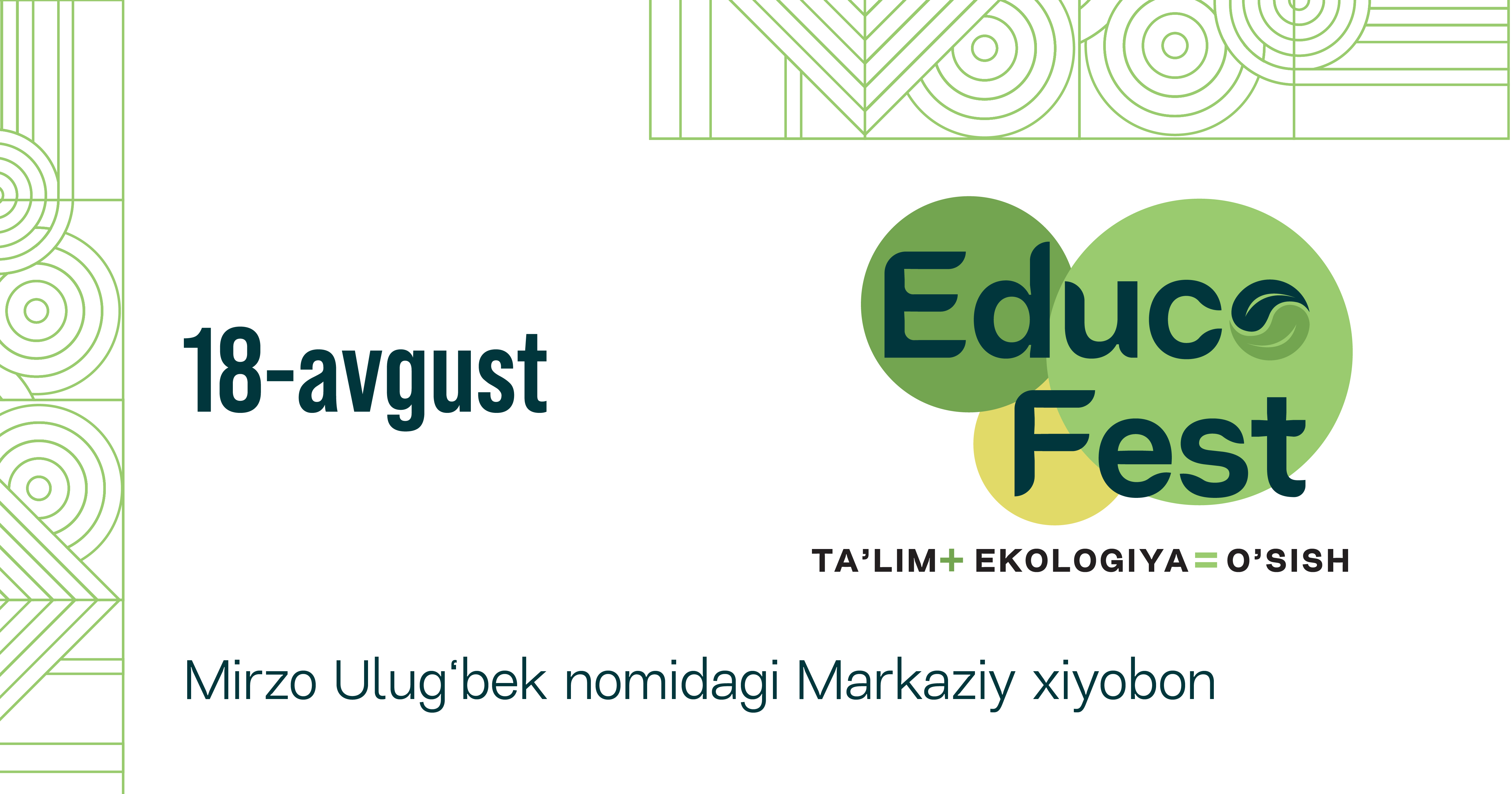 On August 18, 2023, the EduCO Fest youth festival will take place for the first time in Mirzo Ulugbek Central Park (formerly Telman Park)
The goal is promoting education in ecology and supporting eco-communities in the country.
The festival is organized by the Ministry of Ecology, Environmental Protection and Climate Change.
EduCO Fest is a synergy of education and ecology that promotes the concept of green education as an exciting and in-demand field in Central Asia for young people, increasing their awareness of current and new projects and institutions in the field of green education in Uzbekistan.
The event will include a series of educational lectures by eco-experts, as well as presentations by eco-activists from various regions in the Pecha Kucha style - informal reports and presentations, a green education career opportunities corner, interactive activities, games and musical performances.
Following the festival, a database of young people interested in green education will be formed for further collaboration with them on various projects.
To participate in the event, you can register in advance through the organizers' link. Participation in the festival is free.
Program of the EduCO Fest youth festival:
17:00 - 23:00 - Green Education Corner
Green lectures - Short Pecha Kucha-style presentations. Regional young eco-activists and representatives of international and local organizations will give presentations.
15:00 - 21:00 - EKO ZAKOVAT (organizer @zakovat_official_page)
An eco-quiz game for teams of young participants aged 17-25.
16:00 - 22:00 - SWAP MARKET (by @swapbozor).
17:00 - 20:00 - Master class on decorating and dyeing clothes or other items using tie-dye and shibori techniques (taught by @isssiryk).
17:00 - 23:00 - Corner with representatives of the Central Asian University for Environmental Studies and Climate Change, partner and international organizations
Presentation of academic opportunities in the field of ecology
17:00 - 23:00 - CAREER CORNER
International organizations will present potential internships and employment opportunities for students of the Central Asian University for Environmental Studies and Climate Change
18:00 - 20:00 - Musical performances by the Dalahast and Nashwan groups